Custom-Built Business Applications
Manage your business data with ease.
Automate business processes, manage data, and make your work easier with a custom application.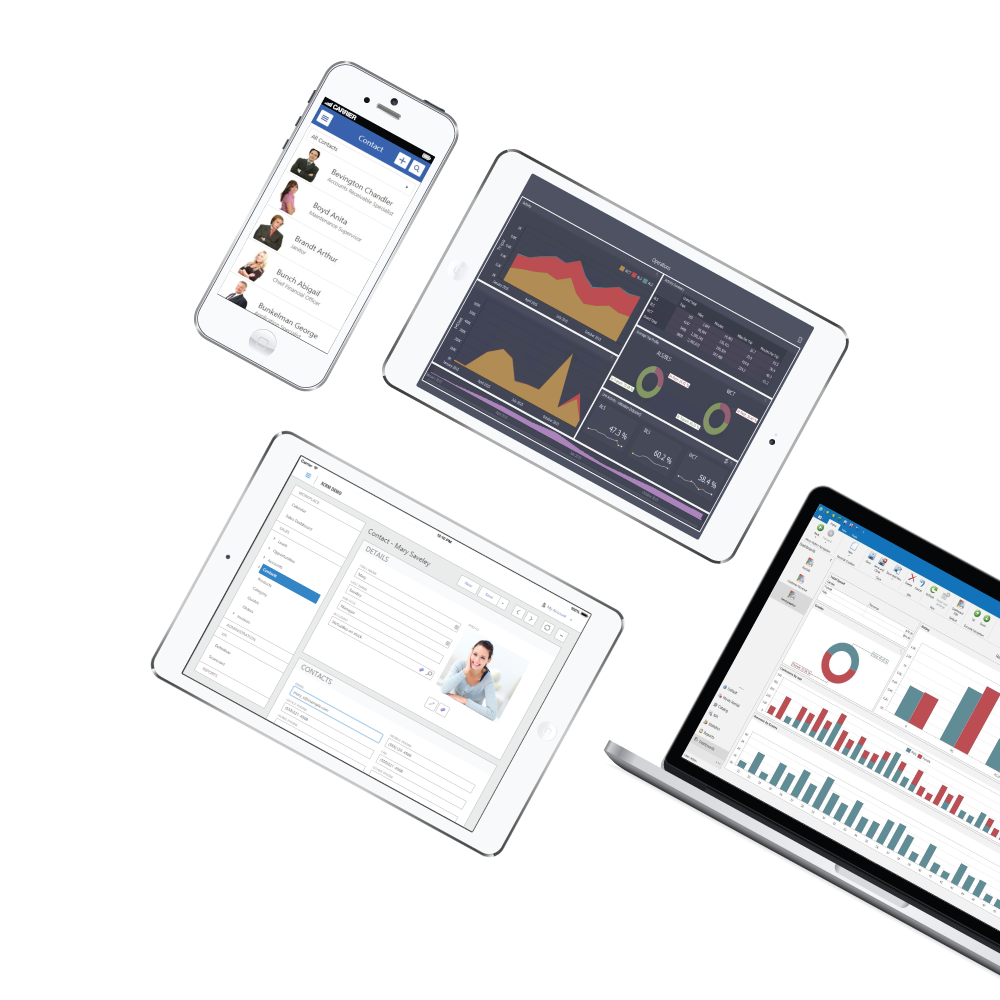 Our applications come with an unmatched level of functionality and sophistication compared to other solutions available on the market. You will be able to manage the most demanding business functions and operations with ease.
Easy To Use
If you are familiar with the Microsoft  Office suite you will feel right at home in our apps.  Built on a familiar foundation you can get started almost instantly.
Powerful
You need to filter, search, sort, or group? Maybe bulk edit or clone records? Our apps come loaded with useful functionality to help you find and manage your data effectively.
Flexible
Everything inside is customizable. Forms, lists, reports, layouts, appearance and more. You can customize any view so it looks and feels exactly how you want it.
Affordable
Yes, you can have an affordable custom-built application for a small business. We use a powerful rapid application development framework that allows us to outmatch functionality of a typically larger system for a fraction of the cost.
Fast
Any custom software development takes time and effort. But we don't waste your time.  If your data is in good shape, we can have a functional prototype in weeks so you can start benefiting from your new application as soon as possible.
Great Support
Our customers lie at the heart of our business and we are fully committed to providing the very best products, services, and support, so you can focus on your business.
Take a tour of our demo application to see what it would be like to have your very own business application.
Schedule a free consultation
Let's connect and discuss how a custom-built application can help your business.
Unique software for your unique business.
Every business is unique, from business model to processes, team and data. This is one good reason why you should consider a custom solution.
Your very own business application works exactly the way your business works.
Tailored to your needs; customized for your team – you should not have to settle or compromise when it comes to running your business.
Everything you'd expect from enterprise-class software for the small business budget.

Customize your application to suit your business needs and your team.
Centralized data store
Backed by a robust database you will not run into limitations of Excel or Access.
Multi user
You can start with one and scale to hundreds of users.
Customizable views
Every view can be customized to your exact preferences for the ultimate experience.
Data is the lifeblood of a modern business. Our apps are built with powerful features to enable you to access, view and manage your business data with ease.
Filter & Search
Focus on relevant data with visual filtering and search. Build simple or comprehensive filter conditions easily that can be saved, reused and shared.
Group, Sort &Calculate
Group and sort records for quick reporting or analysis. Create your own summaries and calculations.
Print & Export
Print and export any view to common formats like Excel, HTML and Text  File.
Managing data changes is absolutely necessary, but not the most fun activity. We include features to help you with your daily tasks.
Record History
See the history log of changes made by all users to know what was changed and when.
Bulk Edit & Clone
Save time by cloning records or editing multiple records at once.
Validaton Rules
Validate your input data using user-defined validation rules in order to ensure high data quality and consistency.
A rich set of analytical and reporting tools is available to handle the most demanding business intelligence needs.
Dashboards
Create insightful, interactive and information-rich dashboards in minutes. Capture data from multiple areas of your business in a single dashboard to get quick insights into your business operation.
Visual analytics
Visual analytics can be the key to transforming your business. With our solutions you can quickly slice and dice and drill into your data for quick and efficient decision making.
Reports
Create beautiful and informative reports with report wizards, pre-built report templates and report designers that you can view, share, print and distribute.
Security & User Management
Our applications are secure by design. The built-in security module provides common security strategies to handle user management, access rights and data protection.
User Management
Manage your app users without the IT department. Optional Active Directory integration is available.
Access rights
Set access rules and permissions to allow or restrict user access.
Data Encryption
Benefit from built-in data encryption that protects your data from unauthorized access.
Common modules included in every app.
Tasks
Task management, tracking and planning.
Events
Plan your business calls, meetings, events.
Files
Attach files to any business context so they are always accessible.
We offer competetive pricing and flexbile options. Contact us for more details.
Customization fee
starting at
Custom data model

User interface design

Dashboard and report design

Configuration and set-up

Data onboarding

User training
Subscription fee
starting at
Support & Maintenance

Fixes and updates

Managed Cloud Infrastructure (Optional)

Managed Backups (Optional)

Performance tuning (Optional)
Sample screenshots from our demo application for a video rental store
My application saves me hours of work every week. What used to be a tedious manual process is now just a click away.
Love how all my data is connected and  accessible. I'm able to find everything easily and can even customize forms and layouts.
Creating my own dashboards is so much fun! Love how analytics are part of my app, easy to use – yet powerful enough for the power user!
Decided to convert an in-house MS Office based application.  No more user connectivity issues, mismatched information and no more headaches.